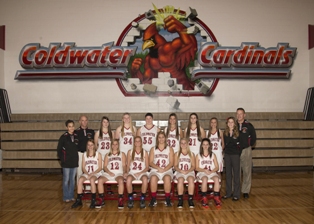 QUINCY, MI (WTVB) - In Branch County high school sports, last night in girls basketball in a game we had on the radio, it was a county matchup as Coldwater was a 57-37 winner at Quincy in the season opener for both teams. The visiting Lady Cardinals were up 24-20 at halftime and led 41-33 after three quarters before pulling away for the 20-point victory.
Our McDonald's Players of the Game honors went to the leading scorers for each team as Kenzie Galloway paced Coldwater with 14 points while Andrea Ferrin had 12 points for Quincy. Also for Coldwater, Jordan Shiery had 10 points and a team-high 7 rebounds. Quincy has another non-conference contest coming up for their second game when they visit Mendon on Friday night and that's when Coldwater plays its home opener in a SMAC East encounter with Kalamazoo Loy Norrix, which you can hear live on AM 1590 and FM 95.5 with our coverage beginning at 7 o'clock.
In last night's junior varsity game, Coldwater beat Quincy 45-17. Megan Hoath had 10 points and 7 rebounds for Coldwater while Megan Parshall led Quincy with 7 points. Quincy doesn't have a freshman team so the Coldwater freshmen opened their season at home with a 57-15 loss to Parma Western with 5 points for Megan Lippert.
Elsewhere last night in girls hoops, Bronson started its season with a 53-32 loss at Homer. Skyler Sobeski led the visiting Lady Vikings with 8 points. Bronson's next game is Friday night with their home opener against Union City. Last night, Union City had their record slip to 1-and-1 with a 46-21 loss at Mendon. Katie Birch had 7 points while Haley Harty had a team-high 8 rebounds.
On tonight's high school schedule, just one activity with a gymnastics season opener for Coldwater with a meet at Adrian. Today on the Coaches Corner, we'll have a preview of Bronson wrestling with new head coach Chad Butters.