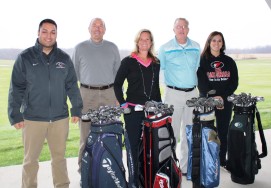 COLDWATER, MI (WTVB) - Recently, Rolla Frisinger of the Foundation Golf Center of Coldwater made a donation to local high schools after witnessing a lack of golf equipment at Coldwater High School when helping teach a golf class. Frisinger, a PGA professional knows the importance of quality equipment and contacted Callaway Golf to assist with a donation of 109 clubs to Coldwater High School, Union City High School, and Quincy High School.
Each school was able to take 30 new irons a piece, as well as some golf bags totaling thousands of dollars in equipment. Kerri Jent, gym teacher at Coldwater High School said, "Our clubs we have are not in good condition, and we didn't have enough clubs for all of the students. This will make teaching the class so much easier, and will provide a good foundation for the game of golf."
Jent and Chris Davis of Union City High School were on hand to accept the donated clubs from golf professionals Nancy Chapman, Rolla Frisinger, and Dean Whittington. "I saw what the schools had to work with and knew that there was an opportunity for them to have better equipment. I hope this donation gets more students involved and interested in the game," said Frisinger.
(courtesy of Foundation Golf Center)