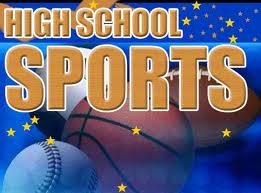 COLDWATER, MI (WTVB) - In Branch County high school sports, there was Friday night girls basketball including a game we had on the radio as Coldwater lost a heartbreaker to Kalamazoo Loy Norrix 49-48 with the defeat coming in the Lady Cardinals home and SMAC East opener. The outcome left both teams with 1-and-1 records. The contest was tied at 15 after one quarter while the Knights pulled ahead at halftime 29-24. Coldwater bounced back to take a 37-36 lead into the final quarter before Loy Norrix rallied late to pull out the one point win. 24 turnovers hurt the Lady Cardinals, especially two givebacks in the final minute that assisted the Knight's cause. Coldwater won the battle on the boards, outrebounding Loy Norrix 36-29.
Our McDonald's Player of the Game for Coldwater was senior forward Kenzie Galloway, who shared game-high scoring honors with the Knight's Avi Alexander, each with 25 points. Jordan Shiery had a team high 13 rebounds for the Lady Cardinals, along with her six points. Coldwater returns to action next Friday night on the road against Battle Creek Lakeview, where the Coldwater boys team will play their season opener that night against the Spartans and we'll bring you both contests on AM 1590 and FM 95.5 with our doubleheader coverage beginning at 5:30.
There was a split in last night's reserve girls games in Coldwater. In the junior varsity action, Coldwater defeated Loy Norrix 38-16 with 11 points apiece for Megan Hoath and Stacy Guzy while the Knights won the freshman game 35-18 with Megan Lippert leading Coldwater with 14 points.
Elsewhere last night, in a Branch County matchup, Bronson was a winner at home over Union City 47-30. Bronson pulled away in the fourth quarter when they outscored the Chargers 18-5. Bronson, which is now 1-and-1, had balanced scoring with 12 points each for Skyler Sobeski and Liz Baker and 10 for Kinslea Blouin. Union City slipped to 1-and-2 with 8 points for Riley Smith and 7 for Marissa Mead. And Quincy struggled on the road last night, losing 55-to-10 at Mendon. Gaby Mason had 4 points for Quincy, which drops to 0-and-2.
The Michigan high school wrestling season opens today with 3 of the 4 Branch County teams seeing tournament action with Coldwater at the Brooklyn Columbia Central Invitational while Quincy is at Onsted and Union City at Colon.