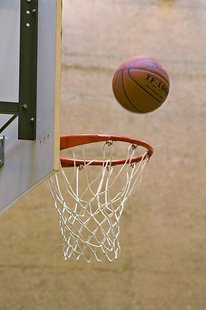 COLDWATER, MI (WTVB) - In Branch County high school sports last night, in a cross-county boys basketball matchup we had on the radio, Coldwater broke open a close game in the third quarter and the host Cardinals went on to beat their visitors from Bronson 45-to-31. Only 27 total points were scored in the first half which ended with Coldwater leading 14-to-13. The Cardinals then found their stroke after the break and heading into the final period had established a double digit advantage at 29-to-19.
Coldwater pulled away to go up by as many as 16 before settling for the 14 point victory. Jordan Eddy had a game-high 14 points for the Cardinals including 12 in the second half and 8-for-8 from the free throw line and was our McDonald's Player of the Game for Coldwater. For the Vikings, the Player of the Game honors went to Mark Robinson, who finished with 13 points and 7 rebounds.
The win allowed Coldwater to improve their record to 5-and-4. The Cardinals hit the road Friday night to take on Gull Lake. For the Vikings, the loss drops their mark to 1-and-8 and they also have an away game coming up Friday against Centreville.
Today on the Coaches Corner, we'll hear from Bronson coach Dennis Gest.
In last night's J-V game, Coldwater beat Bronson 64-to-19. Michael Magocs led the Cardinals with 14 points while Nate Waterbury had 11 and Brandon Kafer 10 points. Also last night in boy's hoops, Union City pulled out a 50-to-48 win at Jonesville. Emmet Fraley had a double-double for the visiting Chargers with 23 points and 15 rebounds while Brady Johnson added 13 points. Union City improved to 2-and-0 in the Big Eight and 4-and-1 overall.
In the junior varsity action, Union City beat Jonesville 35-to-32 with ten points for Colin Kreger. In girls basketball in the Big Eight, Quincy fell to visiting Homer 45-to-35. Katie Santi had 20 points for Quincy, which slipped to 1-and-7 and 0-and-5 in league play. And Union City went down to defeat at Athens 59-to-26.
Brooke Johnson had 14 points and 10 rebounds for Union City, which falls to 1-and-4 in the conference and 2-and-6 overall. And Tekonsha lost last night at home to Litchfield 42-to-35. On tonight's high school schedule, there's a Branch County wrestling matchup with Coldwater at Bronson.
The host Vikings are ranked fourth in the state in the latest Division 4 poll. Also in wrestling, it's Quincy at Athens and Union City at Springport.