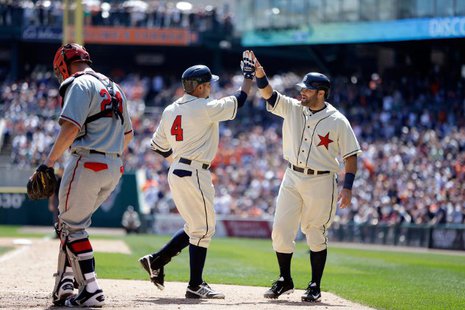 The Tigers continue to tumble, losing 8-to-3 yesterday afternoon to the Blues Jays at Toronto on Canada Day. It was no celebration for Detroit with their sixth defeat in seven outings dropping the Tigers into second place in the American League Central, a half a game behind idle Cleveland. Tiger's rookie lefthander Jose Alvarez lasted just three innings, giving up five runs to fall to 1-and-2. R.A. Dickey threw seven strong innings for Toronto giving up 2 runs and scattering six hits including a solo homer run in the fourth inning for Prince Fielder.
Omar Infante was a bright spot for the Tigers, going 4-for-4 with a home run. Meanwhile, Miguel Cabrera had his 15 game hitting streak come to an end after an 0-for-4 day. Detroit's descent into second place snapped a string of 39 straight days in which they owned at least a share of the lead in the division. Doug Fister goes to the mound for the Tigers tonight in Game 2 of the 4 game series at Toronto, where the Blue Jays have won 7 straight while Detroit is 17-and-22 on the road this season.
The White Sox and Cubs both had the day off Monday.