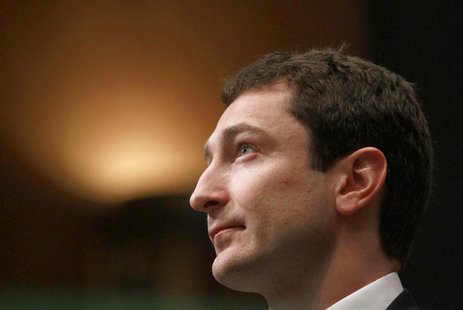 NEW YORK (Reuters) - The SEC has ended a probe of a central witness it intends to call at this month's fraud trial against former Goldman Sachs Group Inc vice president Fabrice Tourre for his role in a notorious 2007 debt instrument that hedge fund billionaire John Paulson successfully shorted.
The decision by the Securities and Exchange Commission to drop the investigation of former ACA Financial Guaranty Corp employee Laura Schwartz was disclosed in two letters dated Tuesday and obtained by Reuters.
An unresolved investigation could have damaged the SEC's case against Tourre, whose lawyers have been seeking details about Schwartz that could hurt her credibility.
Schwartz could help establish at Tourre's trial, scheduled to begin on July 15, how he misled investors in a complex collateralized debt obligation called ABACUS 2007-AC1 in 2007, according to court filings.
In February, Schwartz had received a "Wells notice," indicating that SEC staff could recommend that the commission bring civil charges against her, as part of a probe of ACA's role as collateral manager for a different CDO, ACA ABS 2007-2.
The Wells notice had been disclosed in a broker report, filed with the Financial Industry Regulatory Authority.
But in a letter dated Tuesday, Schwartz's lawyer Robin Alperstein said SEC staff had notified her June 27 that the regulator had finished its probe of her client, and "does not intend to recommend that the Commission initiate an enforcement action against her."
Tourre was accused of misleading investors by failing to disclose that the hedge fund operated by Paulson was involved in selecting mortgage securities behind the Abacus CDO, and was betting against the transaction.
Goldman agreed to pay $550 million to settle related charges in 2010. Paulson was not charged.
Alperstein declined to comment on Wednesday. A spokesman for Tourre's lawyer, Pamela Chepiga, also declined to comment.
The status of the SEC's review of the ACA ABS 2007-2 CDO is unclear.
UBS AG, which sold more than $748 million in notes tied to ACA ABS 2007-2, has said it is in talks with the SEC over its "structuring and underwriting of one CDO in 2007."
John Nester, an SEC spokesman, declined to comment. A UBS spokeswoman did not immediately respond to requests for comment. A lawyer for ACA did not immediately respond to a request for comment.
The case is SEC v. Tourre, U.S. District Court, Southern District of New York, No. 10-03229.
(Reporting by Nate Raymond in New York; Editing by Gary Hill)