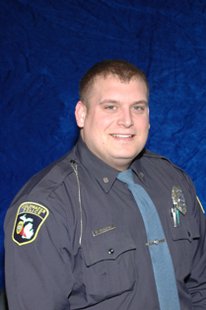 COLDWATER, MI (WTVB) - The Coldwater Police Department (CPD) is pleased to announce the recent promotion of Scott Sergent to the position of Sergeant. Scott is originally from Monroe County, and moved to Coldwater when he began working with the CPD in 2011 as a Patrol Officer. Currently, he is an instructor for Pressure Point Control Tactics/Use of Force, Certified Meth Responder, oversight for alcohol enforcement, CPD Drug Enforcement Team member and recipient of CPD's Life Saving Award.
In addition to his work for the CPD, Scott has worked with Monroe County Central Dispatch, Monroe County Sheriff's Department and Carleton Police Department. He also holds a Bachelor of Science Degree in Criminal Justice from the University of Toledo. "Since his arrival at CPD he has invested himself in an effort to be recognized as a leader in our organization," said Mark Bartell, Public Safety Director. "That positive attitude and his quick grasp of pertinent issues will serve him well as a supervisor."
Scott is married to his wife Laura, and together they have two sons; Jax and Grayson. In his free time, he enjoys spending time with his family, golfing, fishing and playing softball.