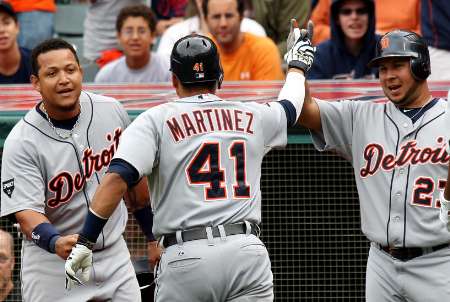 The Tigers last night pulled out a series winning 4-2 ten-inning victory at Cleveland. First place Detroit took 3 out of 4 from the second place Indians, who now trail the Central Division leading Tigers by three and a half games. Victor Martinez broke a 2-2 tie in the tenth, driving in a pair of runs with a double to deep centerfield.
Detroit starter Max Scherzer ended up with a no decision, which kept his 13-and-0 perfect record intact. Scherzer allowed two runs and struck out seven over seven innings and has now gone 19 straight starts without suffering a loss, setting a new Tiger's record. He passed Bobo Newsom, who had 18 in-a-row during the 1940 season. Drew Smyly came away with the win last night to improve to 4-and-0 and Joaquin Benoit nailed down his seventh save. It was a damp night at Progressive Field that included a 20-minute rain delay in the second inning.
The victory gave the Tigers a 7-and-4 mark on their longest road trip of the season. Tonight, Detroit opens a 3-game series at Comerica Park against the White Sox, who lost 8-to-2 to the Cubs last night at U.S. Cellular Field in a makeup game from May 28th. The win earned the Cubs a four-game season sweep over their crosstown rivals.