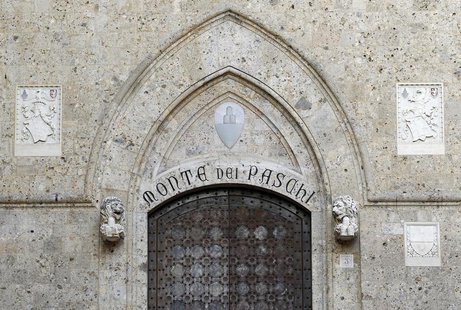 SIENA (Reuters) - Italian prosecutors investigating Monte dei Paschi's costly acquisition of a smaller rival in 2007 have found no evidence that bribery was involved, they said on Wednesday.
Monte dei Paschi bought regional lender Antonveneta for 9 billion euros ($11.95 billion) from Spain's Santander , stretching its finances to the limit just before the global financial crisis erupted. The bank had to request a 4 billion euro state bailout earlier this year.
Prosecutors in Siena have been investigating whether Monte dei Paschi's former management deliberately overpaid Santander, which just months before the deal had valued Antonveneta at 6.6 billion euros, and whether bribery was involved.
After wrapping up a preliminary investigation in the case, prosecutor Antonino Nastasi told a news conference there was no evidence of the existence of a bribe or any other crime in the acquisition itself.
"Only the newspapers have said there was a bribe. We concentrated on the facts, not on speculation," he said.
The Siena prosecutors allege crimes were instead committed in the way the deal was financed.
They accuse Monte dei Paschi and its former management of misleading regulators, market manipulation and false statements to the market about a 1 billion euro hybrid financial instrument used to partly fund the deal.
They are also investigating U.S. bank JP Morgan over what they allege was obstruction of Italian regulators by one of its employees in connection with that financial instrument.
JP Morgan said on Wednesday it and its employees acted correctly at all times and that it will defend itself vigorously.
(Reporting by Silvia Aloisi)