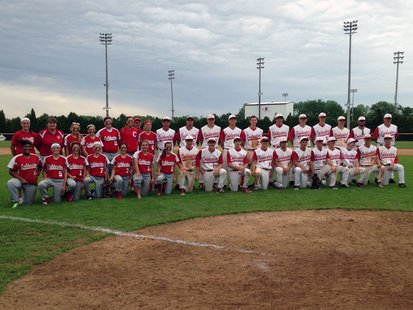 COLDWATER, MI (WTVB) - In Branch County high school sports, it's a big Saturday coming up in state tournament baseball and softball for Coldwater, Quincy, and Bronson but first up, the boy's golf regionals, which teed off yesterday. In Division Three, Bronson had a pair of seniors who qualified as individuals but neither Robert O'Rourke nor Jonah Houtz were able to post a top three finish to advance to the finals from Thursday's action on the Medalist Golf Club course at Olivet. Houtz shot a 91 and O'Rourke a 92. The best individual scores yesterday were 75, 80, and 81 on the par-72 layout. Coldwater qualified as a team for the Regionals and the Cardinals play today in the Division Two Regional at the Marshall Country Club.
Tomorrow, it's the baseball and softball regionals as teams try to stay alive in the second season and move on to next Tuesday's quarterfinals. In baseball, Coldwater takes on Otsego at 10 a.m. Saturday in the semi-finals of the Stevensville-Lakeshore Division Two Regional while Quincy also plays at ten o'clock against Bridgman in the Centreville Division Three Regional. And in softball, Coldwater also plays at Stevensville Lakeshore with the Lady Cardinals taking on Gull Lake in the semi-finals at Noon tomorrow. That's when Bronson has its Division Three semi-final matchup against Niles Brandywine at Centreville.
Today on the Coaches Corner, it's Coldwater softball coach Tina Scheidler.