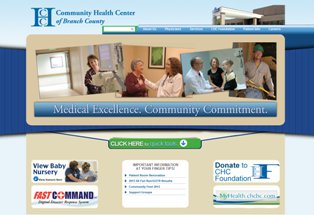 COLDWATER, MI (WTVB) - The Community Health Center of Branch County (CHC) has launched a new, updated website at www.chcbc.com. The purpose of the website is to provide easy access to health information and CHC for patients and visitors. The website features cleaner looking and easier to navigate web pages.
The internet has become one of the most important tools for a company to utilize today. The Community Health Center of Branch County's website is an excellent tool for educating current and prospective patients/customers of the services provided. It also has up-to-date news and current events that are occurring at CHC.
On the CHC website patients can pay their bill online, send an e-card to family and friends who may be a patient, visit the baby nursery, check out the special events calendar, make a donation to the CHC Foundation, find a physician or service, search for a job, and much more. The CHC website also has a vast amount of free health information available. A new feature of the CHC website is the quick tools tab that allows site visitors to obtain quick and easy-to-find information that is used on a daily basis.
CHC's goal is to make their website as user friendly as possible. With that in mind, if you have any recommendations or suggestions on how CHC can continue to improve their website, please contact the CHC Marketing Department at 517-279-5282 or email at mashauns@chcbc.com. All suggestions will be taken into consideration. CHC wants to successfully optimize the appearance and accessibility of the website by listening to those using it the most.