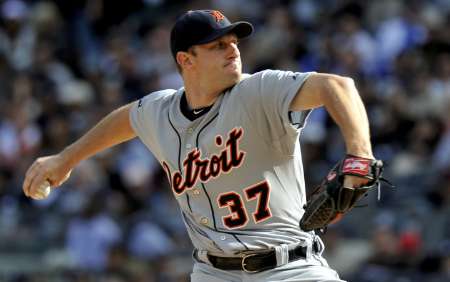 The Tigers and unbeaten Max Scherzer teamed up last night to get by Baltimore 5-to-1 in the opener of a 3-game series at Comerica Park. Scherzer is just the fifth pitcher in history to be 10-and-0 before the All Star break and the first Detroit hurler to start a season 10-and-0 since 1909. The last player to reach 10-and-0 before the break was Dave McNally for the Orioles in 1969. Scherzer tossed six innings of one-run ball, giving up seven hits with ten strikeouts. Miguel Cabrera hit a two-run homer while Austin Jackson went 3-for-4 with an RBI and scored two runs.
The Tigers yesterday placed pitcher Anibal Sanchez and catcher Alex Avila on the 15-day disabled list. Sanchez is hurting with a right shoulder strain while Avila was hit by a pitch Sunday and is suffering from a contusion on his left forearm. Detroit on Monday also recalled catcher Bryan Holaday and outfielder Avisail Garcia from Triple-A Toledo. The first place Tigers lead the American League Central by 5 games over the Kansas City Royals and five and a half games over the Indians after the Royals topped the Indians last night 2-to-1.
The White Sox downed the Astros 4-to-2 in Houston while the Cubs lost 5-to-2 at St. Louis.