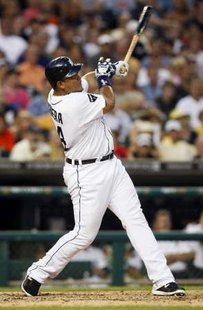 The Tigers continue to be no match for the Angels who won 7-4 last night for their eighth straight win against Detroit. They go for a three game sweep this afternoon at Comerica Park as the Tigers wrap up their 6-game season series with the Angels. Detroit jumped out to a 2-0 lead when Torii Hunter and Miguel Cabrera hit back-to-back homers in the first inning facing Angels' emergency starter Billy Buckner. He got the call when Los Angeles pitcher Tommy Hanson was a late scratch when he felt tightness in his forearm while warming up in the bullpen prior to the game. But the Tigers were held in check the rest of the way by Buckner and five relievers. Detroit rookie lefthander Jose Alvarez fell to 1-and-1, allowing four runs in five and-two thirds innings.
The defeat cut Detroit's American League Central Division lead over Cleveland to 2-and-a half games after the second place Indians won at Baltimore. Doug Fister starts for the Tigers this afternoon and then tomorrow night, Detroit opens an 11-game road trip beginning with a 3-game series at Tampa Bay.
The White Sox were blanked by the Mets 3-to-0 last night in Chicago while the Cubs beat the Brewers 5-to-4 at Milwaukee.