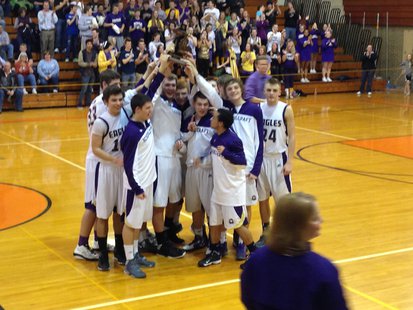 QUINCY, MI (WTVB) - The last Branch County team standing in this year's MHSAA Boys Basketball Tournament was eliminated last night. But while the Quincy Orioles fell to the Schoolcraft Eagles 66-57 in the championship game of the Class C Quincy District, they didn't go down without a fight.
Schoolcraft scored the first 7 points of the game and had a 22-9 lead after the first quarter. Oriole head coach Scott Rodesiler told us after the game that while most teams would have packed it in, his kids never gave up the rest of the way. Both teams scored 15 points in the second quarter as the Eagles enjoyed a 37-24 halftime lead. Quincy cut the deficit down to single digits several times in the second half before Schoolcraft had short scoring bursts to pull away from the Orioles. The Eagles outscored the O's 16-12 in the 3rd frame to lead 53-36. Quincy's final chance for a comeback fell short in the final quarter, although they outscored Schoolcraft 21-16 to make the margin of victory for the Eagles 9.
Ashton Diotte, playing in his final game in an Oriole basketball uniform, led his team with 17 points en route to being named our McDonald's Player of the Game; teammate Michael Tesch added 14 as Quincy ends its season at 11-12. For the Eagles, who improve to 21-2 on the season, Luke Ryskamp led all scorers with 34 points. They will take on the Bloomingdale Cardinals Monday night in a Class C Regional Semifinal game at Constantine; in the championship game of the Bangor District, a 3-point shot at the buzzer lifted Bloomingdale to a 44-41 win over Kalamazoo Hackett.
In other district final action yesterday:
Class A at Mattawan: Loy Norrix 75, Portage Central 67
Class A at Lakeview: Holt 75, Jackson 48
Class B at Pennfield: Harper Creek 49, Pennfield 34
Class B at Edwardsburg: Sturgis 58, Three Rivers 37
Class B at Berrien Springs: Lakeshore 54, Benton Harbor 43
Class B at Charlotte: Olivet 48, Eaton Rapids 45
Class C at Delton Kellogg: Galesburg-Augusta 58, Maple Valley 31
Class D at St. Philip: Kalamazoo Phoenix 81, St. Philip 35
Class D at Jackson Christian: Bellevue 62, Tekonsha 29
On today's high school schedule, it's individual event and all-around competition at the MHSAA Gymnastics Finals at Plymouth High School. Representing Coldwater will be record-setting gymnast Kylie Dudek. Of note last night: Grand Ledge won its sixth consecutive team title.