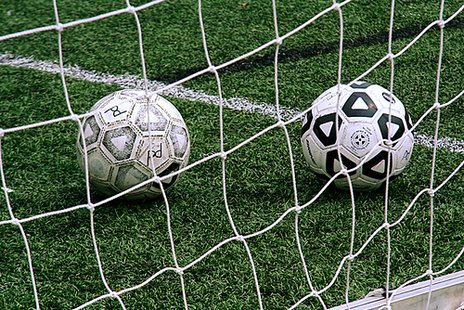 COLDWATER, MI (WTVB) - In Branch County high school sports, last night in girl's soccer, Coldwater played to a 2-2 double overtime tie at Sturgis. The visiting Cardinals, who were coming off a double overtime win Monday at home, had a 1-to-0 halftime lead last night after Becca Harmon scored with an assist from Mackenzie McGuire. Sturgis tied the match at 1-1 with 25 minutes left in regulation and then Coldwater went back ahead 8 minutes later on a Miranda Caitlin goal, assisted by Kait Vella. Sturgis made it a tie game once again with 12 minutes remaining on a short direct kick before the Coldwater defense was set. Neither team could score in the two ten-minute overtime periods, so the game ended in the 2-2 tie. Goalkeeper Shelby Bowers had 13 saves, as Sturgis outshot the Cardinals 19-18. Coldwater is now 5-4-2 on the season, and 2-4-1 in the conference. They'll host a first round game in the Silver Division of the league tournament next Wednesday. This weekend, Coldwater plays at the Hanover Horton Invitational Saturday. The Coldwater JV team improved to 9-1 on the season with a 5-0 win over Sturgis. Megan Hoath had 2 goals and one assist, Holly Smith had a goal and 2 assists, and Meghan Eguia and Allison Germann also scored. Mina Wellet made 4 saves in goal.
In track, Bronson swept to victory at White Pigeon, winning the boys meet 97-25 and the girls meet 77-55. Double winners for the Bronson boys were Wesley Disbro in the pole vault and 800 meter run; Scott Wyant in the 100 and 200 meter dash; And Hunter Machus in the sixteen hundred and 32-hundred meter runs. In the girls meet, Cristal Luviano won the pole vault and 300 meter low hurdles while Alexa Sturgis placed first in the 200 meter dash and 100 meter hurdles.
Also in track, Union City was a double winner at home over Homer with the Chargers taking the boys meet 98-38 and the girls meet 81-52. Evan Cross won the boys shot put and discus for Union City while Jesse Anderson placed first in both hurdles races as well as the 200 meter dash. And Skyler Flanders won the 16-hundred and 32-hundred meter runs. In the girls meet, Brooke Johnson led the way, winning the high jump along with the 100,200, and 400 meter dashes. Also, Jasmine McIntosh finished first in both hurdles races.
And yesterday in girl's tennis, Coldwater scored a 6-to-2 victory at home over Three Rivers. Winners for Coldwater were Madison Zinn, Amira Felde and Emma Dwyer at first, third and fourth singles along with Karissa Harrell and Jamie Maxson at first doubles, Janie Marso and Lauren Outwater at second doubles, and Fawn Andrews and Jessica Weaver at fourth doubles.
Coldwater took the j-v match over Three Rivers 4-to-1 with wins for Shelsae Perkins and Alllie Vanstone at first doubles and Aubrey Hodson and Emilie Dunny at second doubles while two points were awarded by default.
On today's high school sports schedule, in baseball, it's Coldwater at Kalamazoo Central, Quincy at Brooklyn Columbia Central, Union City at Mendon, and Bronson at Homer. In softball, Coldwater plays at home against Three Rivers. And in girl's soccer, it's Quincy at Hanover Horton starting at 5:30.
Today on the Coaches Corner, it's Union City girls track Coach Steve Brown.