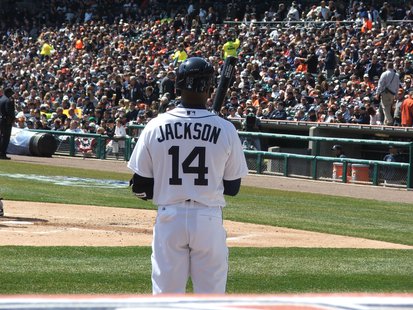 The Tigers used a six run fourth inning last night on their way to a 7-to-2 win in Detroit over Houston in the opener of a 3-game series with the Astros. The Tigers had lost four of their last five before beating the Astros, who were swept by Detroit in a 4 game series earlier this month in Houston. Andy Dirks was 3-for-4 last night, including his first career grand slam.Dirks batted first in the Detroit lineup after their regular leadoff hitter, Austin Jackson, landed on the 15-day disabled list Monday with a pulled left hamstring.
Also for the Tigers last night, Victor Martinez added a two-run shot and Torii Hunter doubled in a run. Detroit starter Anibal Sanchez struck out eight over seven innings of two run ball for the win to improve to 4-and-3. It was the fifth straight loss for the Astros, who have the worst record in the majors. The Tiger's victory gives them sole possession of first place in the American League Central by a half game over the Indians after Cleveland yesterday split a pair with the Yankees. Doug Fister goes to the mound tonight for Detroit. To replace Jackson on the roster, the Tigers recalled outfielder Avisail Garcia from Triple-A Toledo. Don Kelly started in centerfield last night in Jackson's place and went 1-for-3 with a run scored.
The White Sox lost 10-to-3 last night at Minnesota while the Cubs pounded Colorado 9-to-1 at Wrigley Field.