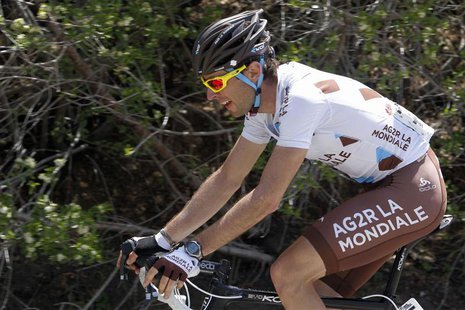 PARIS (Reuters) - An analysis of Sylvain Georges's B sample has confirmed his failed drugs test during the Giro d'Italia, the International Cycling Union (UCI) said on Tuesday.
Georges, the French AG2R rider, tested positive for the stimulant Heptaminol in a urine sample taken on May 10 and was forced to pull out of the Giro by his team.
He was not provisionally suspended by the UCI because Heptaminol, a drug that widens blood vessels and can be used in the treatment of low blood pressure, is a "specified" substance that can be used in certain circumstances.
But now the UCI wants the French Cycling Federation to take action against the 29-year-old.
"The analysis of the sample B of Sylvain Georges's urine has confirmed the result ... In accordance with the anti-doping rules, the UCI will request the French Cycling Federation opens a disciplinary procedure against the rider," the UCI said in a statement.
Georges had no intention to dope and took a product to cure his heavy legs, according to AG2R team director Vincent Lavenu.
Georges has already been barred from riding by AG2R, who are part of the Movement for Credible Cycling, which has a strong anti-doping stance.
(Writing by Gregory Blachier; Editing by Stephen Wood)