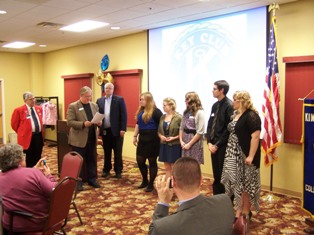 COLDWATER, MI (WTVB) - Another service club in Coldwater has stepped up to help high school students maximize all of their potential. State of Michigan Kiwanis dignitaries, Coldwater Kiwanis Club members and family of the Key Club members gathered earlier this month at the Community Health Center conference center to celebrate the Key Club's official chartering of their organization. Key Club of Coldwater is a student led and self-governed organization that is sponsored by and receives guidance from the Kiwanis Club.
The seventy-five in attendance enjoyed an evening meal, a silent auction and a chartering program which included the installation of officers and officer acceptance of responsibilities. There were encouraging speeches as well from Greg Smith, Michigan Key Club administrator and Terry Tomlinson, past president of the local Kiwanis Club. Smith explained how the Club is based around completing acts of service in the community and reminded them that the Kiwanis Club of Coldwater would encourage and support their endeavors. 15 students make up the chartered Key Club.
The officers are Alex Devlin, president, Jessica Weaver, first vice president, Tyler Caldwell, second vice president, Mackenzie Ostrom, secretary, Sarah Ford, treasurer, and Bethany Young, bulletin editor.