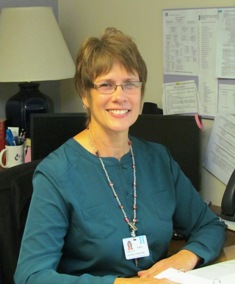 COLDWATER, MI (WTVB) - The definition of Employee of the Month is, "the recognition of an individual by an organization for their outstanding contribution as an employee." The Community Health Center of Branch County has selected Ronda Webb as its outstanding contributor for Employee of the Month for August 2013.
Ronda was hired on March 5, 1990, as a biller. During her time at CHC she has also been a Billing Supervisor and is currently the Director of Patient Financial Services. As the director, she oversees the daily operations of the business office. Ronda is on the Compliance and Community Fest Committees at CHC. According to her nominator, "Ronda does her very difficult job in a very quiet and professional manner. Ronda and her department are often faced with challenges that are tedious and time consuming; yet she graciously takes on any project asked of her. Ronda is always exemplary in her professionalism, setting an example for all CHC employees. Any task taken on by Ronda will be done well; you can count on it. Ronda always has the best interest of CHC in mind with all she does. She is very deserving of the Employee of the Month Award."
Ronda graduated from Pittsford High School. She is married to Jim and he is employed with the Michigan State Police. They have three grown children and five grandchildren, ages four to 13. Ronda enjoys spending time with her grandchildren, gardening, and sewing. She is a member of the Free Methodist Church in Coldwater.
The CHC Employee of the Month program is open to all full-time and part-time employees with six months of continuous employment. The Employee of the Month is selected by a committee that is comprised of former Employees of the Month. Each Employee of the Month receives a special sweatshirt, parking privileges for one month, an Employee of the Month certificate, his or her picture displayed near the cafeteria, Tibbits Summer Theater tickets, lunch with his or her administrative representative, and the privilege of serving on the Employee of the Month Committee. Each Employee of the Month for the year is then eligible for Employee of the Year, which includes recognition at the annual Employee Recognition Banquet, parking privileges for one year, gift certificates, a jacket, and his or her picture displayed near the cafeteria.
(courtesy Community Health Center)