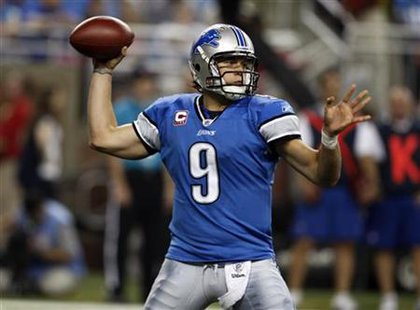 CHICAGO, IL (WTVB) - The Detroit Lions are in sole possession of first place in the NFC North after escaping Chicago with a dramatic 21-19 win over the Bears at Soldier Field. A failed two-point conversion by Chicago in the final minute sealed the victory for Detroit, which improved to 6-and-3 with a one game lead over the Bears and the Packers. Green Bay also joined Chicago at 5-and-4 with their loss yesterday to the Eagles.
Calvin Johnson's 14-yard touchdown catch with 2:28 to go gave Detroit a 21-13 lead. The Bears answered with an 11-yard TD catch by Brandon Marshall with 47 seconds left. The Lions then stopped Chicago on the 2-point conversion but the Bears got a second chance when Detroit's Willie Young was flagged for a roughing penalty. However, Nick Fairley then stuffed Chicago's Matt Forte in the backfield to preserve the win for the Lions.
The last time this late in the season Detroit topped the division was in 1999 and it was Week 5 of the 2005 season the last time they were all alone in first place. Next Sunday, it's Detroit at Pittsburgh.
The New Orleans Saints put on a show last night at the Superdome, crushing the Dallas Cowboys 49-17. And a pair of notable upsets yesterday when two favored teams lost at home with Indianapolis getting slammed by St. Louis 38-8 while Carolina stopped San Francisco 10-9. Week 10 wraps up tonight with Miami at Tampa Bay.