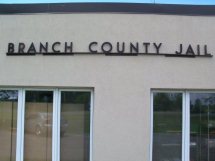 COLDWATER, MI (WTVB) - Even though it won't happen two days in-a-row, any day with no arrests in Branch County is always noted at the county jail. Yesterday there were no bookings at the county lockup with Tuesday ending with 134 inmates behind bars, eight below the rated capacity for the jail.
The prisoner population started to grow again early today after Bronson City Police arrested a man on a bond revocation charge. Yesterday was in stark contrast to last Friday when a dozen people were arrested in Branch County.
The number of inmates peaked over the summer in July when it swelled to 158 and that month sentence reductions were ordered for 13 prisoners and they were released after a jail overcrowding emergency was declared by Circuit Court. Prior to Tuesday, the most recent no arrests day in the county was on July 22nd.