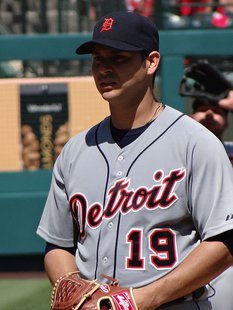 BOSTON, MA (WTVB) - The Tigers take on the Red Sox tonight at Fenway Park in Boston in Game One of the American League Championship Series. Detroit kept its season and hopes of a return trip to the World Series alive with their Thursday night decisive Game 5 ALDS victory at Oakland. The pitching matchup for tonight's 8 o'clock game has Anibal Sanchez on the mound for the Tigers against Red Sox lefty Jon Lester.
The Game 2 starters Sunday night are Max Scherzer for Detroit vs. Boston's Clay Bucholz. The series heads to Motown Tuesday for a 4 p.m. game and then Game 4 is set for Wednesday night at Comerica Park.
And what a start to the National League Championship Series last night as Carlos Beltran saved the Cardinals with his arm and won the game with his bat. Beltran's walk-off hit in the 13th inning gave the St. Louis Cardinals a 3-2 win over the Los Angeles Dodgers in Game 1 of the NLCS. Beltran knocked in all three St. Louis runs and threw a runner out at home plate in the 10th inning. Game 2 is this afternoon in St. Louis.