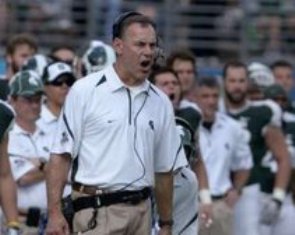 STATE COLLEGE, PA (WTVB) - The Michigan Wolverines were unable to hold on to a lead with less than a minute left in regulation and then got beaten outlasted by Penn State, 43-40, in four overtimes on Saturday night.
A two-yard rushing touchdown by PSU running back Bill Belton gave the Nittany Lions the win after Michigan kicked a field goal on the first possession of the fourth overtime period.
Meantime, Jeremy Langford scored four touchdowns, and Michigan State recovered from an early defensive breakdown to beat Indiana 42-28 on Saturday.
The Spartans (5-1, 2-0 Big Ten) prevailed in a matchup between their top-ranked defense and Indiana's fast-paced offense. Tevin Coleman scored on a 64-yard run for the Hoosiers (3-3, 1-1) just 61 seconds into the game, but Michigan State took control shortly after halftime.
Indiana's Nate Sudfeld went 14 of 30 for 137 yards, although backup Tre Roberson threw two touchdown passes.
Indiana came in ranked No. 1 in the Big Ten in total offense, but Michigan State had the nation's top-ranked defense.