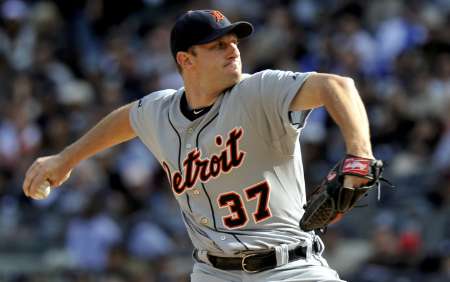 BOSTON, MA (WTVB) - The Tigers blew a 5-0 lead last night at Boston and the Red Sox rallied to beat Detroit 6-5 at Fenway Park, leaving the best of 7 American League Championship Series tied at a game apiece. The series now shifts to Detroit for Games 3 and 4 tomorrow afternoon and Wednesday night.
The big blow for Boston last night was struck by David Ortiz, who smacked a game tying grand slam with two outs in the eighth inning on the first pitch delivered by Detroit closer Joaquin Benoit. Tiger right fielder Torii Hunter tried to make a play on the line drive by Ortiz, but went crashing over the low wall in right as the ball sailed just beyond his reach into the Boston bullpen. Then in the bottom of the ninth, Jarrod Saltalamacchia delivered the game winning single off Rick Porcello to finish off the Red Sox rally.
Detroit starter Max Scherzer carried a no-hitter into the sixth inning before giving up a two out single and double leading to Boston's first run of the series. Scherzer was pulled after seven innings and 13 strikeouts but the Tiger's bullpen couldn't repeat their performance from Saturday night when they were part of Detroit's 1-0, one-hit shutout of the Red Sox.
Detroit's offense last night was led by Alex Avila, who had a 2-run homer and an rbi single. Miguel Cabrera added a solo home run and Victor Martinez had a pair of doubles with an rbi. The pitching matchup for Game 3 tomorrow afternoon at Comerica Park starting at 4 pm has Justin Verlander taking the hill for the Tigers against Boston's John Lackey.
The National League Championship Series resumes tonight in Los Angeles when the Dodgers host the St. Louis Cardinals. The Cards have a 2-0 series lead after winning each of the first two at home.