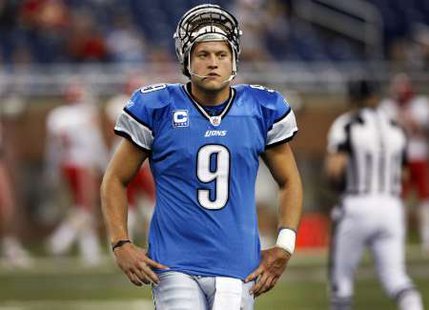 DETROIT, MI (WTVB) - The Detroit Lions lost to the Bengals 27-24 as Mike Nugent booted a 54-yard field goal for Cincinnati as time expired, pushing them to the win at Ford Field. The defeat dropped Detroit to 4-3 and they slipped into a second place tie in the NFC North with the Bears, who also lost while the Packers take over first place at 4-2 following their win over the Browns. Special teams play cost the Lions. David Akers field goal attempt for Detroit from the Bengal's 16 yard line late in the first half was blocked and Cincinnati then scored before the break to take a 14-10 lead.
The real backbreaker for the Lions came after they had rallied from an 11-point third quarter deficit to tie the game at 24 with the possibility of sending the game into overtime. But Detroit rookie Sam Martin shanked a punt only 28 yards in the final minute, setting up Cincinnati at midfield for its winning field goal drive as they improved to 5-and-2. Calvin Johnson had 155 receiving yards for Detroit on nine receptions with a pair of touchdowns. Lions quarterback Matthew Stafford threw for 357 yards and three scores, but also on several occasions over-threw open receivers with high passes including a couple of times in the red zone. Next up for the Lions is another home game on Sunday against the Dallas Cowboys and then it's Detroit's bye week.
Seven weeks into the season the only remaining unbeaten team is Kansas City with the Chiefs improving to 7-and-0 yesterday by getting past Houston 17-16. Denver last night suffered its first loss with the Broncos falling at Indianapolis 39-33. Coming up tonight on Monday Night football, the New York Giants host the Minnesota Vikings.