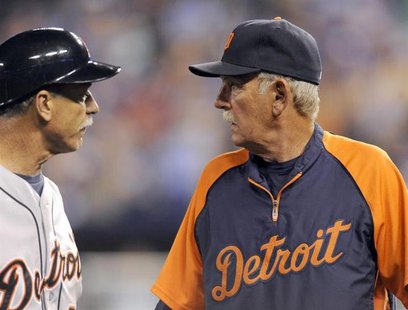 DETROIT, MI (WTVB) - The Tigers will have a new manager next season. Saying simply it was time, Jim Leyland has decided to step down after spending the past eight years with Detroit, guiding the club to four playoff appearances and two American League pennants. Detroit reached the World Series in his first season of 2006, falling to the Cardinals, and also lost to the Giants in last year's Fall Classic. The Tigers were 93-69 this past season and won the American League Central title for the third straight year, but lost to Boston in six games in the American League Championship Series.
Leyland said he told team president and general manager Dave Dombrowski, bench coach Gene Lamont and his wife of his decision to leave the dugout in early September, but did not tell his players until after they were eliminated by the Red Sox. Leyland posted a mark of 700-597 during his eight year tenure in Detroit and will remain with the organization in an undetermined role.
The early speculation on a list of possible candidates to succeed Leyland includes former Tiger star and current Arizona manager Kirk Gipson, former St. Louis manager Tony LaRussa, Angel's manager Mike Scioscia, and recently let go ex-Reds manager Dusty Baker.
Meanwhile, Tigers third baseman Miguel Cabrera had been playing with a groin tear that may require surgery. According to Dombrowski, Cabrera was diagnosed with the injury last spring before the start of the preseason. He had an abdominal strain which began bothering him in June, and then later injured his groin. Dombroski says if Cabrera needs to have surgery, he's expected to recover in time for spring taining.