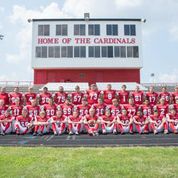 COLDWATER, MI (WTVB) - It's the last weekend of regular season play in high school football and the Coldwater Cardinals will be gunning for their first winning season in 24 years when they play at Marshall. The last time the Coldwater varsity had a winning football season was 1989 and the Cardinals aim to end that drought tonight when take on the Redhawks at Marshall. The Cardinals are 4-and-4 including 4-and-2 in the SMAC East while Marshall is just 2-and-4 in the division and 2-and-6 overall. Our live coverage of the game on AM 1590 and FM 95.5 WTVB as well as the audio streaming on-line at wtvbam.com begins at 6:30 pm with the kickoff at 7 pm.
The varsity football action kicked off a night early for Quincy and Union City as they were on the road last night for their annual Big 8-Cascades Conference crossover games. Union City joined Reading as the only two Big 8 teams to return home with victories as the other 5 matchups went in favor of the Cascades schools. Union City pulled out a 28-14 win at Addison. The visiting Chargers had a punishing ground game with 135 yards for Kenyon Stuchell, 120 yards for Jason Means and 99 yards for Aaron Watson. Means had a pair of touchdowns with one score each for Stuchell and Watson. Both teams ended up with 3-and-6 records.
The Quincy Orioles came up short at Vandercook Lake with the Orioles losing 42-to-24. Jimmy King led Quincy with 149 yards rushing on 22 carries with 2 touchdowns. King also had a team-high 14 tackles. The Orioles finished with a 4-5 record.
Last night's junior varsity games included Coldwater and Marshall playing to an 8-8 tie in Coldwater. Defense dominated after each team scored on their opening possession. Collin Torrey had 126 yards rushing for the Cardinals while Spencer Dudek had a team-high 8 tackles.
Also tonight in high school varsity football, Bronson has a road game against Bath while in 8-man football, it's Tekonsha at Litchfield.
There was non-conference volleyball last night for Union City as the Lady Chargers swept to a 3-0 victory at Battle Creek Central. Rachel Wing had 16 kills, Marissa Mead had 21 digs, Cassie Thrope had 12 assists and Haley Harty had 5 aces. Union City improved its overall record to 17-15-and-4. Battle Creek Central won the j-v match 2-0.
In boys soccer, a SMAC East team is headed to the Division Two state semi-finals. Last night, Sturgis won the Jackson Regional with the Trojans beating Milan 4-0 in the title match. Today on the Coaches Corner, it's Coldwater football coach Jeff Schorfhaar.