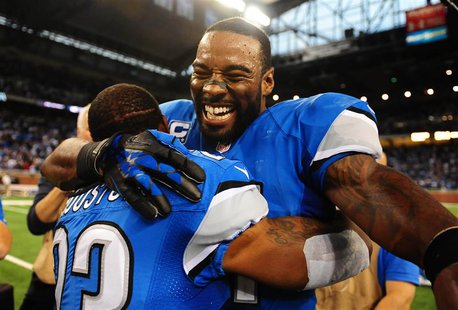 DETROIT, MI (WTVB) - The Detroit Lions pulled out an instant classic improbable comeback victory yesterday over the Dallas Cowboys 31-30 at Ford Field. Matthew Stafford scored the game tying touchdown for Detroit on a one yard quarterback sneak with 12 seconds left and the point after kick gave the Lions the lead. Everyone on the field and in the stadium thought Stafford was going to spike the ball to stop the clock for another snap after he rushed up to the line of scrimmage, telling everyone to hurry up and giving the spike signal, but instead, he lunged over the pile of linemen for six points.
Calvin Johnson had a monster game for the Lions with 14 receptions and a touchdown with 329 receiving yards, which is the second most in the NFL, just 8 yards short of the all-time record for a single game. Detroit improved to 5-and-3 heading into their bye week despite 4 turnovers. Stafford finished with 488 yards passing, the second most in his career. The Lions rallied after trailing 27-17 with 6:45 remaining in the fourth quarter.
Detroit's next game is Sunday, November Tenth at Chicago. Sunday's victory left the Lions alone in second place in the NFC North, trailing the 5-and-2 Green Bay Packers, who won 44-31 last night at Minnesota. The 4-and-3 Bears had their bye week and were idle yesterday.
The league's last undefeated team, Kansas City, won again yesterday to improve to 8-and-0 with their 23-17 victory over Cleveland. Week 8 wraps up tonight with Seattle at St. Louis.