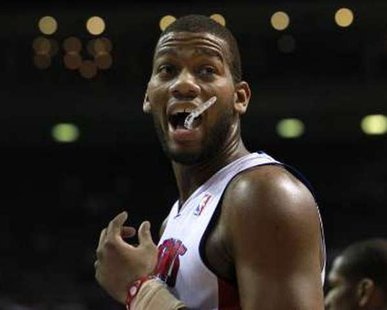 AUBURN HILLS, MI (WTVB) - The Detroit Pistons took control mid-way through the fourth quarter last night and went on to win their season opener at home, beating the Washington Wizards 113-102. Detroit had only a 4 point lead in the final period when they put together a 14-4 run to take a 103-89 lead with just over 5 minutes left in the game. Greg Monroe posted 24 points and 16 rebounds to power the Pistons while Will Bynum added 19 points and five assists as they won their season-opener for the first time since the 2009-2010 season. Josh Smith chipped in with 19 points, five rebounds and five assists in his debut with the Pistons.
It was a successful homecoming for Chauncey Billups, scoring 16 points in his first game back with the Pistons. The victory also made Maurice Cheeks a winner in his first game as the Pistons new head coach.
Tomorrow night, it's Detroit at Memphis as the Pistons work to end a streak of 4 straight seasons without reaching the playoffs.