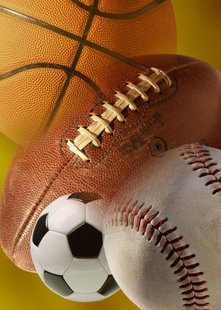 COLDWATER, MI (WTVB) - In high school sports from over the weekend, in a Branch County varsity boys soccer matchup in Coldwater Saturday afternoon, the host Cardinals scored a 1-to-0 win over Quincy. The lone goal of the non-conference match came from Wageeh Saeed assisted by Mohamed Aljabaly with 5:06 to play in the first half. Coldwater outshot the Orioles 14-4 in the game which featured a 30-minute delay because of thunder midway through the first half. Ian Wright made 4 saves in goal for the Cardinals, who improved their record to 4-and-0. Coldwater's undefeated start has earned them an honorable mention ranking in this week's Division Two coach's poll. Quincy's record on the season is now 2-and-2. The Cardinal's next match is tomorrow as they host Battle Creek Central on Youth Soccer Night. Coldwater leads the SMAC East with a 3-and-0 conference mark with Central right behind at 2-and-0.
In junior varsity soccer, Coldwater posted an 8-to-0 mercy rule victory at Adrian with the match called with 7:35 left in the second half. The Cardinals had 29 shots on goal to just one for Adrian. Essa Mohsin had 4 goals while Haroon Aljabaly and Abdul Saied each had two goals. Luiz Rodriguez had one save in goal for Coldwater, which improved its record to 5-and-0.
In volleyball on Saturday, Coldwater and Union City competed in the Cereal City Tournament played at Battle Creek Lakeview. Coldwater finished with a 2-and-2 record on the day, being eliminated by Mendon in 2 games in the Gold bracket quarterfinals. The Lady Cardinals opened the tournament with a close loss to Battle Creek St. Philip 26-27, 22-25. They bounced back with two game wins over Bay City Western and Hopkins before falling to Mendon. Shelby Bowers had 28 kills, Meghan Schorfhaar 33 digs, and Carlee Smoker 36 assists. Coldwater's season record is now 7-4-and-4.
Union City finished with an 0-3-and-1 record at the Cereal City tournament, losing to Hopkins in the Bronze bracket quarterfinals. Marissa Mead had 36 digs, Rachel Wing added 19 kills and 10 blocks, and Bailee White had 22 assists. Union City's season record is 5-7-and-2.
Also in tournament volleyball on Saturday, Bronson won its own Invitational with a 5-and-0 record with two of those victories over Concord, including a 25-15, 25-23 decision in the title match. Quincy also played in the event, falling to Bronson and Paw Paw in pool play and then a loss to South Haven before being defeated again by Paw Paw in the single elimination round. Leading Bronson in kills was Skyler Sobeski with 35, Kassidy Bystry had 49 digs, Alexa Ratkowski and Haley Russell had 9 blocks apiece and Ratkowski added 88 assists. Bronson improved its record to 16-and-1.
In junior varsity volleyball, Coldwater finished second at the Tecumseh Invitational with a 5-and-1 record, losing to Ann Arbor Huron in 2 games in the finals. Shelby Kahler and Sammie Pool had 26 digs apiece. Hannah Parrish had 11 blocks. Naomi Blansit had 19 kills. Kyleigh Scheidler had 18 assists and Scheidler and Kahler each had 20 aces . And in freshman volleyball, Coldwater played in a tournament at Portage Northern, taking third place in the gold division, losing to Marshall in two games in the semi-finals. Megan Gallup had 10 kills and 15 aces.
In boys tennis, Coldwater stayed undefeated on the season, finishing first at the Kalamazoo Loy Norrix Invitational. The Cardinals had 20 points with Loy Norrix and Niles tied for second with 12 each followed by Plainwell with 4 points. Taking first place in the tournament for Coldwater were Derek Sammons, Dylan Linklater and Kumaran Arivoli at first, third, and fourth singles along with Nolan Duda and Kaegen Dwyer at third doubles and Austin Hodson and Kameron Miller at fourth doubles.
In cross country Saturday, Coldwater, Quincy, and Union City traveled to the Centreville Invitational with Coldwater competing in Class B and Quincy and Union City in the Class C-D Division with the runners split into upper and lower classmen groupings. The top 30 times in each of the division groups were awarded medals. In Class B, the Coldwater junior and senior boys took fourth place with medals for Spencer Leist, Josh Norton, and Shane Dunn. The Cardinal's underclassmen team finished first with medals for Trent Licht, Mitchell Duda and Jacob Fair. On the girls side, Andrea Sowles medaled in the upperclassmen race while the Lady Cardinal's underclassmen team took third place. The Quincy boys team won the upperclassmen C-D Division competition while the girls took first place in the underclassmen race. For the boys, Riley Horn was second and Zack Slack fourth among the junior-senior runners while Union City's Skyler Flanders took 15th place. In the girls upperclassmen group, Union City's Katie Birch was fourth while Quincy's Alyssa Bracy was seventh. For the girls underclassmen, Quincy's Haley Bean and Katie Spalding took first and second place.
Bronson ran at the Harper Creek Invitational. Matt Cosby finished 22nd in the upperclassmen race while for the underclassmen boys, Isaac Robinson was 58th. For the Bronson girls, Mary Alberran was 34th in the junior-senior division while Arianna Clemens was 37th in the freshman sophomore race.
On today's high school schedule, in boys soccer, it's Quincy at Hillsdale Academy. In boy's tennis, it's Coldwater at Marshall. And in girls golf, Coldwater plays in a SMAC East Jamboree hosted by Sturgis at Island Hills.
Today on the Coaches Corner, it's Coldwater volleyball coach Larry Knauss.