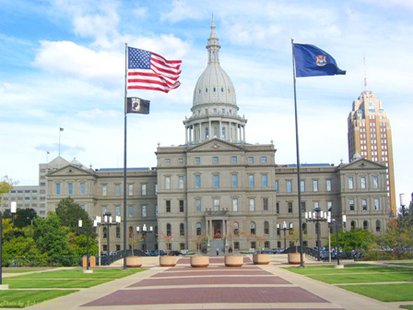 LANSING, MI (WTVB) - Calling the bill "a win for all us," Governor Rick Snyder today signed the state's Medicaid expansion into law. Snyder's signature means Michigan will be one of about 25 states that will take the federal government up on its offer to help fund Medicaid expansion under the Affordable Care Act. But Snyder also said people shouldn't get stuck on "who's writing the checks." Instead, Snyder stressed the legislation is an opportunity for savings for everyone as well as an opportunity to make the state more competitive.
The bill, which sets in place reforms and expands coverage to more than 300,000 people, passed the State Senate in August without immediate effect. The administration is now preparing for an implementation date of April 1 for the program. Many Tea Party conservatives won't be looking forward to that date. They fought the Medicaid expansion proposal throughout the legislative process. And some conservatives threatened to run primary campaigns against Republican lawmakers who voted for the bill.
Branch County's representatives in Lansing both were against the approved expansion measure with House Representative Ken Kurtz and State Senator Bruce Caswell voting no on the legislation.