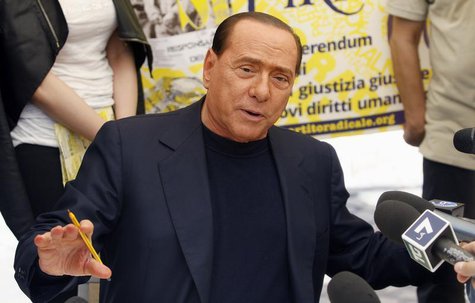 By Barry Moody and Paolo Biondi
ROME (Reuters) - Former Italian Prime Minister Silvio Berlusconi has postponed until Wednesday an announcement in which he is likely to steer away from moves to bring down the government following his tax fraud conviction, political sources said.
The media magnate, known for sudden changes of mood, had been widely expected to issue a video message to Italians on Tuesday on the resurrection of his original center-right political party, Forza Italia, or Go Italy.
The party was the vehicle with which Berlusconi stormed into politics in 1994 after a bribery scandal swept away the old post-war order in Italy.
Political sources said Berlusconi, 76, would also step back in his message from weeks of threats to sink the right-left coalition government of Prime Minister Enrico Letta if the Senate votes to expel him from parliament over the conviction.
Sources in Berlusconi's current People of Freedom (PDL) party, which replaced Forza Italia in 2008, said the pre-recorded message would now be transmitted on Wednesday.
They gave no clear reason although there was speculation the master communicator did not want to fight for air time with the successful operation to raise the wrecked Costa Concordia liner from rocks off the Tuscan coast on Tuesday.
The rescheduled message is now likely to be transmitted a few hours before a Senate committee meeting on Wednesday night which is expected to vote to reject attempts to prevent Berlusconi's ejection from parliament following a conviction for a huge fraud at his Mediaset television empire.
Some sources said on Tuesday that Berlusconi was considering resigning before a full Senate vote to expel him, but this could come in a second video message after the committee vote.
Berlusconi appears to be using the resurrection of his original party to try to seize back the political initiative following the damaging conviction, which has condemned him either to a year's house arrest or community service.
CONCILIATORY LINE
If he sticks to a conciliatory line on Wednesday, it will signal the victory of party doves and business advisors who have tried to undermine the efforts of hawkish Berlusconi supporters to push him towards forcing snap elections.
Il Giornale newspaper, run by Berlusconi's brother, suggested the media tycoon was espousing a more conciliatory line towards Letta's government, an uneasy coalition of the PDL and the premier's center-left Democratic Party (PD).
"To sum up, Berlusconi could once again put the interests of the country before his own to demonstrate his stature as a statesman," the paper said.
Libero, another daily close to the billionaire media magnate, said there were two video messages. In the first, Berlusconi would again state his total innocence of the fraud charge and announce that "as far as he is concerned the government can continue."
Berlusconi has been planning the relaunch of Forza Italia for months, seeing it as a way to reinvigorate center-right voters and appeal more to young people than the PDL, which is seen by many as dominated by an older generation of political hacks.
Ever since the supreme court confirmed Berlusconi's conviction in early August, party doves and hawks have been fighting to convince him of their line, spawning a bewildering stream of contradictory newspaper headlines as he repeatedly changed his mind.
But party doves, several relatives and leaders of his business empire have recently apparently persuaded him that torpedoing the government in the midst of Italy's worst post-war recession would misfire for the center-right.
One source close to Berlusconi said some of his oldest advisers, including veteran political consigliere Gianni Letta and close business aides, were united in advising him not to provoke a crisis that would severely damage his media empire.
They said his children, on the other hand were divided with most, headed by eldest child Marina, 47, also pushing to avert a crisis which could misfire for Berlusconi personally. Only Pier Silvio, his 44-year-old son, was supporting the position of the hawks, the source said.
Marina heads Berlusconi's $6.6 billion dollar business empire.
European economics commissioner Olli Rehn said on Tuesday in testimony to Italy's parliament that continuous threats to torpedo Letta's government were holding back vital investments.
(Additional reporting by Giselda Vagnoni and Francesca Piscionieri; Editing by Angus MacSwan)