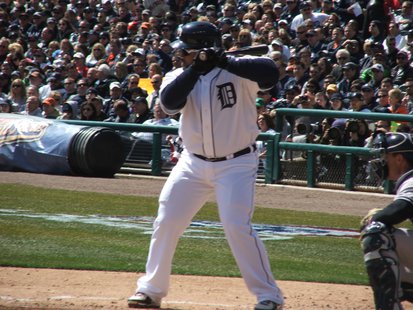 COLDWATER, MI (WTVB) - The Tigers continue to move closer to capturing their third straight American League Central crown with their magic number to clinch the division title down to four with yesterday afternoon's 5-to-4 win over the Mariners at Comerica Park. Detroit took 3 out of 4 this week from Seattle and leads second place Cleveland by 6 games with 9 to play. Victor Martinez went 2-for-2 Thursday for the Tigers with two doubles, two walks and two RBI's with his two bagger in the bottom of the seventh driving in Prince Fielder to cap a two-run rally. Replays appeared to show that Fielder was actually tagged out before touching home plate. Fielder went 3-for-4 with a pair of doubles while Torii Hunter had two hits, including a solo home run.
Detroit starter Doug Fister lasted 7-and-two-thirds innings to earn the win with 10 strikeouts and one walk to improve to 13-and-9. The victory was closed out by Joaquin Benoit with a perfect ninth for his 22nd save of the season. The Tigers got a major scare when shortstop Jose Iglesias went down after being hit in the left wrist by a pitch. However, X-rays were negative and he's listed as day-to-day. Detroit finishes its last home stand of the season this weekend beginning with tonight's opener of a 3-game series against the White Sox, who were idle yesterday.
The Chicago Cubs snapped their 5-game skid Thursday afternoon with a 5-1 win at Milwaukee. The Red Sox are headed to the playoffs with their victory last night over the Orioles wrapping up at least a wildcard berth while lowering their magic number to one for clinching the AL East. The Los Angeles Dodgers captured the National League West with their win at Arizona.