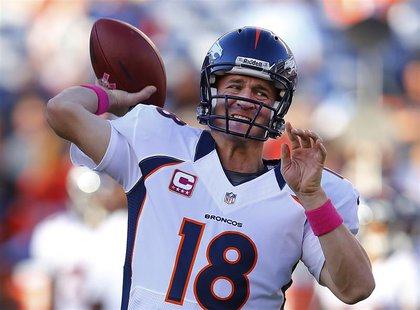 DENVER, CO (WTVB) - Denver Broncos quarterback Peyton Manning is in the record books once again. Manning is the first player in NFL history to throw 12 touchdown passes in the first three games of a season. He had three TD passes last night in the Broncos' 37-21 win over Oakland on "Monday Night Football" in Denver to reach 12 for the season. He opened the year with seven TD passes against the reigning Super Bowl champion Ravens. Denver is now 3-and-0 while the Raiders slip to 1-and-2.
Meanwhile, a couple of injury notes heading into the Lion's game Sunday at Ford Field against the unbeaten NFC North leading Chicago Bears. Detroit on Monday re-signed defensive lineman Andre Fluellen, who was released August 31st during the final round of cuts. He'll take the roster spot of starting defensive end Jason Jones, who was lost for the rest of the season after tearing his left patella tendon in the Lion's victory last weekend against the Redskins.
The Bears suffered a big loss in their win Sunday night at Pittsburgh. Bears' Pro-Bowl defensive tackle Henry Melton is done for the rest of the season after he tore the ACL in his left knee in the fourth quarter against the Steelers.