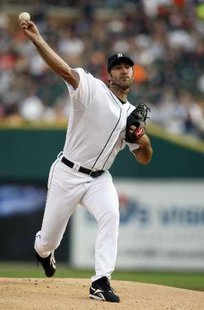 MINNEAPOLIS, MN (WTVB) - The Tigers bullpen couldn't hold a 3-0 lead at Minnesota last night and the Twins took down Detroit 4-3 in eleven innings. The Tigers defeat keeps their magic number at two in order for them to clinch the American League Central. A win last night would have also wrapped up at least a wild card spot in the playoffs. Detroit has five games remaining and could nail down the division tonight with a win over the Twins to go along with a Cleveland loss to the White Sox. The second place Indians, who were idle Monday, trail the Tigers by four and-a-half games. Last night, Detroit closer Joaquin Benoit blew his first save in 23 chances this season. He surrendered a solo homer in the bottom of the ninth that made it a 3-3 tie and then Luke Putkonen, the Tiger's seventh pitcher, gave up a walk-off rbi single in the bottom of the 11th as the Twins won the opener of the 3-game series.
Detroit wasted a strong start from Justin Verlander, who left after six innings and 107 pitches with a 1-to-0 lead. Verlander recorded a dozen strikeouts while allowing 6 hits with 3 walks. Torii Hunter had three hits for the Tigers with an RBI and a run scored while Miguel Cabrera had two hits and an rbi. Doug Fister gets the start tonight for Detroit.
Over in the National League, the Pittsburgh Pirates and Cincinnati Reds are heading to the postseason. Both teams clinched at least a Wild Card berth after winning last night. This is the Pirates first playoff appearance since 1992. It's also their first winning season since that year. The Reds are back in for the second straight season. It's the first time that has happened for Cincinnati since winning the World Series in 1975 and 1976. Both teams are two games back of the NL Central-leading St. Louis Cardinals.