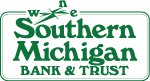 COLDWATER, MI (WTVB) - Southern Michigan Bancorp, Inc. (OTCQB: SOMC) declared a quarterly dividend of $0.13 per share, an 8% increase from its previous $0.12 per share dividend paid on July 19, 2013. The new annualized dividend rate of $0.52 per share represents a 3.15% dividend yield based on the current market price of $16.50 per share. The dividend is payable on October 18, 2013 to shareholders of record October 4, 2013.
John H. Castle, Chairman and Chief Executive Officer of Southern Michigan Bancorp, Inc., stated, "The strength of our balance sheet, along with record earnings in 2012 and continued strong profitability in 2013, has allowed us to progressively increase the quarterly dividend four times since December 2011 while maintaining a strong capital position."
Southern Michigan Bancorp, Inc. is a bank holding company headquartered in Coldwater, Michigan. Its subsidiary bank, Southern Michigan Bank & Trust, has 15 branches within Branch, Calhoun, Hillsdale and St. Joseph Counties and provides a broad range of consumer, business and wealth management services throughout the region. For more information, please visit the Southern Michigan Bank & Trust website, www.smb-t.com.