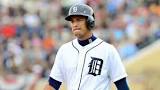 DETROIT, MI (WTVB) - It was a walk-off 4-3 win in the bottom of the ninth for the Tigers over the Kansas City Royals in Detroit's season opener at home yesterday afternoon. An opening day Comerica Park record crowd cheered as newly acquired Tiger shortstop Alex Gonzalez singled in the winning run. An RBI triple in the seventh by the 37-year old Gonzalez tied the game at three for the Tigers, who rallied to overcome a 3-1 deficit against their American League Central rivals. Victor Martinez hit a solo homer for Detroit.
Joe Nathan picked up the victory in relief of starter Justin Verlander, who gave up three runs in six-and-a-third innings. Following a day off today, Max Sherzer will start for the Tigers tomorrow afternoon against the Royals in game 2 of the 3-game series.
There were a dozen other opening day contests on Monday including the White Sox beating Minnesota 5-3 in Chicago while the Cubs lost 1-0 in ten innings at Pittsburgh.