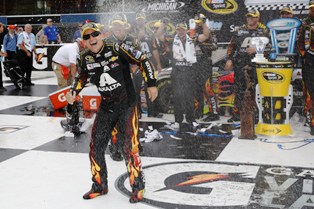 BROOKLYN, MI (WTVB) - Jeff Gordon won a Sprint Cup Series race at Michigan International Speedway for the first time in 13 years after passing Joey Logano for the lead following a late race restart in Sunday's Pure Michigan 400. Gordon scored his third win of the season and the 91st of his Sprint Cup career. Logano ran in front for a race-high 86 laps and led the way for the final restart with 17 laps left, but Gordon was able to pull ahead of him and stay in front the rest of the way. Gordon beat Kevin Harvick to the finish line by 1.4 seconds while Logano took third place, Paul Menard was fourth, and Dale Earnhardt Jr. finished fifth.
With the victory at MIS, Gordon not only moved back into the points lead but grabbed the top spot on the "Chase for the NASCAR Sprint Cup" grid. He is tied with Earnhardt, Brad Keselowski and Jimmie Johnson for most wins in the series this season.
Yesterday's race featured eight cautions, mostly for accidents. Just three races remain before the start of the Chase, beginning with Bristol coming up this Saturday night, then it's Atlanta and Richmond.