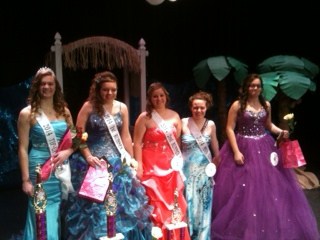 COLDWATER, MI (WTVB) - A Coldwater High School senior is the 2014 Quincy Tip-Up Festival queen. Ellie Ohm, the daughter of Scott and Bev Ohm, captured the title Saturday night during competition at the Tibbits Opera House. In addition to a $1,000 scholarship for being named queen, Ohm received the $500 Tami Fickle-Sparks Scholarship Award and the Academic Award..
First runner-up was Quincy High School junior Kalley Thorn, the daughter of Karmen Montgomery and Carl Thorn. She won a $750 scholarship, as well as $50 for winning the Talent Award. Second runner up was Angel Heffner, the daughter of Bill and Tammy Heffner. She won a $500 scholarship, as well as $50 cash for winning the Audience Choice Award.
Other award winners were Alexis Boshers with Most Photogenic and Miss Congeniality, and Shayla Ford with Spirit of Tip-Up.
Gerald Marsh will serve as Tip-Up Mayor and Roy Peacock as Sheriff. The 52nd annual Tip-Up Festival will be held January 25th and 26th in Quincy.