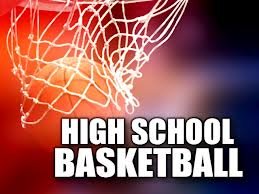 COLDWATER, MI (WTVB) - In Branch County high school sports, the winter weather outlook heading into the weekend is impacting the schedule with various events already cancelled and others subject to being called off as conditions might warrant. The changes include the cancellation of tonight's Coldwater at Kalamazoo Loy Norrix boys and girls varsity basketball games. No makeup date has yet been announced. The rest of tonight's schedule for county teams, again weather permitting, includes boys and girls basketball with Quincy hosting Reading, Bronson at home against Mendon and Union City at Springport. Tonight's Coldwater High School Gymnastics Clinic has been postponed until next Friday, January 31.
Last night, there was reserve boys and girls basketball with Coldwater vs. Loy Norrix. In the boys action at Coldwater, it was a sweep for the host Cardinals. Coldwater won the j-v game 48-43 with 15 points for Nate Waterbury and 11 for Collin Warner. And the Cardinals took the freshman contest 55-27 with 11 points for Eric Roberts.
In the girls games at Loy Norrix there was a split. Coldwater won the j-v contest with 16 points for Payton Watson while Megan Hoath had 11 points and 10 rebounds. Loy Norrix took the freshman game 47-25 with 16 points for Megan LIppert and 13 rebounds for Hannah Parrish.
There was boys and girls bowling yesterday for Coldwater against Marshall at Coldwater Recreation Lanes and the Cardinals varsity boys team and the girls varsity and j-v squads each suffered their first losses in five matches so far this season. For the boys varsity, the high score for Coldwater was rolled by Austen Reichhart with a 219 while for the winning j-v team Darrien Bradley had a 173. For the girls, Cassidy Wolff led the varsity with a 215 while Sarah Ivarsson had a 124 for the j-v squad.
Today on the Coaches Corner, it's Coldwater boys basketball coach Brien Kelly.
In middle school sports yesterday, in girls basketball, Coldwater opened their season against Sturgis and split their 8th grade games at Sturgis with a win for the "A" team and swept the 7th grade games at home against the Trojans. The Lady Cardinals won the 8th grade "A" game 49-33 with 18 points for Jasmine Wellet. Sturgis took the "B" game 21-16 with 6 points for Madison Fougerousse. The Lady Cardinals won the 7th grade "A" game 39-21 with 18 points for Malorie Rzepka. In the "B", Coldwater beat Sturgis 14-12 with 8 points for Molly Smith.