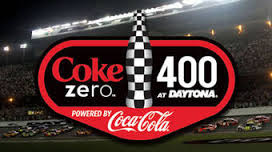 DAYTONA BEACH, FL - Saturday's Coke Zero 400 at Dayton International Speedway was postponed by rain. The race is rescheduled for 11 a.m. ET on Sunday. The race, the 18th of 36 on this year's schedule, was scheduled for a 7:57 p.m. ET green-flag time on Saturday. Live race coverage from MRN Radio will begin at 11 am Sunday on AM 1590 and FM 95.5 WTVB. Afternoon showers impacted Friday's schedule at the 2.5-mile track as well, cutting short Coors Light Pole Qualifying programs for Sprint Cup and Nationwide series teams.
Both series were able to complete one of the three scheduled rounds of qualifying, allowing officials to set the starting lineups based off those results. The start of Friday night's Subway Firecracker 250 Nationwide Series event was delayed by rain, but completed in its entirety with Kasey Kahne earning the win. Front Row Motorsports driver David Gilliland will start on the Coors Light Pole in Sunday's Sprint Cup race while Reed Sorensen will start second. Gilliland's pole-winning run on Friday was his first since the 2007 season and the third of his career.
This weekend's race is the fourth Sprint Cup event to be impacted by weather this season. The season-opening Daytona 500 was halted for more than six hours after 32 laps had been completed due to rain.