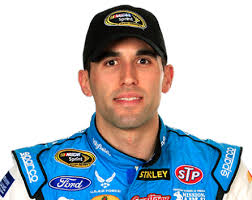 DAYTONA BEACH, FL (WTVB) - Aric Almirola avoided two huge wrecks and benefited from the rain to take the checkered flag in Sunday's Coke Zero 400 at Daytona International Speedway for his first Sprint Cup Series win. 30 years after his team owner, Richard Petty, scored his historic 200th career NASCAR win, which came in the 400-mile race at Daytona, Almirola drove the famed No. 43 car into victory lane after the event was cut short 48 laps from its scheduled distance due to the wet weather. Rain had postponed the race from its originally scheduled start on Saturday night.
Brian Vickers finished second, followed by Kurt Busch, Casey Mears and Austin Dillon. Dale Earnhardt Jr. finished 14th after winning the Daytona 500 in February. Just six drivers, including Almirola, avoided being involved in any one yesterday's two big wrecks.
Almirola is the tenth different winner of a race this season, securing his spot in the Chase. That leaves five more open spots in the Chase with eight races to go before it starts.
Next on the schedule is Sunday's Camping World RV Sales 301 at New Hampshire Motor Speedway.