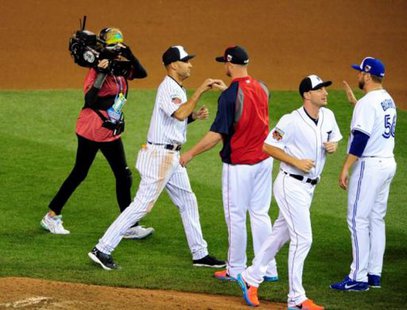 MINNEAPOLIS, MN (WTVB) - Last night's All-Star game saw a pair of Detroit Tigers help the American League beat the National League 5-3 while the Derek Jeter storyline played out to perfection in the 85th Midsummer Classic at Minnesota's Target Field. Tiger first baseman Miguel Cabrera smacked a first inning 2 run homer and Detroit's Max Scherzer, last year's AL All-Star starting pitcher and reigning Cy Young Award winner, earned the victory by tossing a scoreless fifth inning.
Jeter delivered two hits and scored a run out of the American League's leadoff spot in what was the Yankee shortstop's 14th and final All-Star Game with retirement looming at the end of the season. And helping the Junior Circuit gain home field advantage for this year's World Series with the victory was Angel's outfielder Mike Trout, who took home the game's MVP award as he doubled and tripled, had two RBI's and scored a run.
At age 40, Jeter is the oldest player with multiple hits in an All-Star game, surpassing Carl Yastrzemski, who was 39, and Babe Ruth, who did it at the age of 38.
Detroit's other All-Star game representative, second baseman Ian Kinsler, who was subbing for the injured Victor Martinez, struck out as a pinch-hitter in the seventh-inning.
The first place Tigers will return to action after the All-Star break on Friday, playing at home against Central Division rival Cleveland. The Indians are in third place, trailing Detroit by 7-and-a-half games while second place Kansas City is six-and-a-half games off the pace.