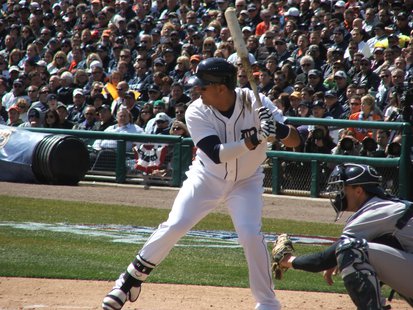 CHICAGO, IL (WTVB) - The Detroit Tigers three home runs last night weren't enough to get them past the White Sox, who held on for a 6-5 victory in the opener of a 4 game series in Chicago. In the top of the ninth, with no outs, Alex Avilla drove in Detroit's fifth run with an rbi double and the Tigers had a runner on third with one out but couldn't score again and suffered their seventh loss in nine games. Miguel Cabrera, Eugenio Suarez and Victor Martinez all went deep in the defeat.
Detroit starter Rick Porcello gave up five earned runs in five innings to fall to 8-and-4. The loss trimmed the Tigers American League Central lead to just 2 games over Cleveland while the White Sox and Twins are 3-and-a-half games out. Tonight's pitching matchup has Justin Verlander on the mound for Detroit facing Chicago's John Danks.
The Chicago Cubs lost 6-2 last night to the Pirates to open a 4-game series at Pittsburgh.