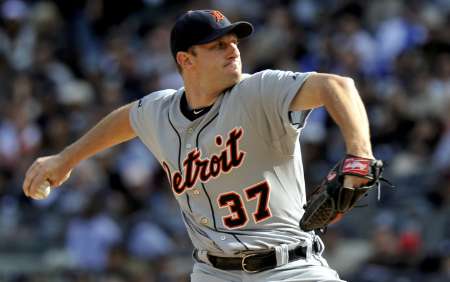 DETROIT, MI (WTVB) - The Tigers have fallen into second place in the American League Central with the Royals taking over the top spot by a half game after Kansas City rolled past Detroit 11-4 last night at Comerica Park. The Royals made it nine straight wins by putting up seven runs on Max Scherzer in the second inning. Scherzer was charged with ten runs in four-plus frames as he fell to 8-and-3.
Ian Kinsler hit a solo homer and J.D. Martinez went 3-for-4, but Detroit lost its sixth in nine games and is out of first place for the first time since moving into the division lead nearly a year ago on July 3, 2013. Kansas City has scored 11 runs in each of the first two games of the four game series which continues this afternoon with Drew Smyly starting for the Tigers.
The Chicago White Sox beat San Francisco 8-2 last night in Chicago while the Cubs fell 6-5 at Miami.