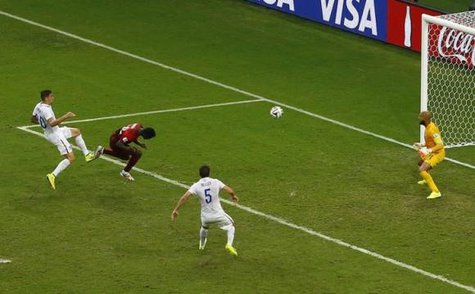 BRAZIL (WTVB) - The United States' 2-2 World Cup draw with Portugal Sunday night turns out to be the most watched soccer game ever in the U.S. with the Nielsen Company reporting the match was watched by an average of 24.7 million viewers on ESPN and Univision. In addition, ESPN said nearly another half-million people streamed coverage of the contest on their mobile devices.
Ratings for the upcoming Team USA match Thursday at noon against Germany won't likely equal Sunday's record since it will be a daytime broadcast but it will still be highly popular since the outcome is likely decide whether the United States advances.
Yesterday, Mexico moved on to the knockout round for the sixth successive World Cup by securing a 3-1 win over Croatia to finish second in Group A. Host nation Brazil secured the top spot in Group A with an easy 4-1 victory over Cameroon.