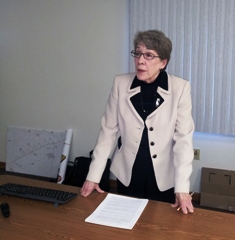 COLDWATER, MI (WTVB) - A drastic decline in revenue from penal fines from the courts and from taxes has brought the Branch District Library System to seek an additional half mill for operations for eight years at the August Primary election. Library supporters say it's needed for expenses at all six locations of the system. Dorothy Cherry, a former long-time library board member, spelled out the dire situation the library system is facing at last night's meeting of the Branch County Township Supervisors Association.
Taxes and penal fines produce 95% of the revenue for library system. Cherry explained that before 2010, the system received about 100 dollars from each paid traffic ticket. However, state law now requires the courts to assess $175.00 more in court costs on each ticket. A typical traffic ticket in Branch County currently sets a driver back about $375.00, but Cherry said the portion designated from the penal fine that comes to the library system may be as small as three or five dollars.
The average household in Branch County pays 6 cents a day or $22.74 per year for library services. The half mill increase would cost that average household an added nickel a day or $18.80 a year. Revenue generated from the millage will go only toward operating expenses at all six BDL locations.