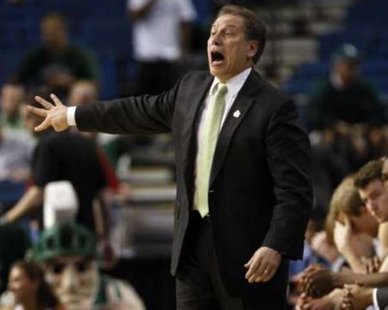 UNDATED (WTVB) - Two of the three teams from the state of Michigan are moving on in the NCAA Men's Basketball Tournament. It was the Adreian Payne show as Michigan State dismantled Delaware 93-78 in the East Region of the NCAA Tournament. Payne posted a career-high 41 points on 10-of-15 shooting from the field and a perfect 17-for-17 at the free throw line. He also had eight rebounds. Travis Trice scored 19 points on 7-of-8 shooting off the Spartans' bench. Devon Saddler led the Blue Hens with 21 points. Kyle Anderson shot just 1-of-10 from the field, including 0-for-6 from three, to finish with nine points. Delaware ends its season at 25-and-10. Michigan State Saturday will play the Crimson of Harvard, which advanced after upsetting Cincinnati.
Nik Stauskas scored 15 points to lead second-seeded Michigan past Wofford, 57-40, in the Round of 64 of the Midwest Region in Milwaukee. Jordan Morgan posted a double-double with 10 points and 10 rebounds, while Glenn Robinson the Third added 14 points and seven boards for last season's national runner-up. The Terriers shot 1-of-19 from three as they finished the season 20-and-13. Karl Cochran was their only player in double figures with 17. The Wolverines play seventh-seeded Texas in the Round of 32.
The dance is over, however, for Mid-American Conference champs Western Michigan University, which lost 77-53 to Syracuse in Buffalo. The Orange stifled the Broncos' offense to under 35-percent shooting. Tucker Haymond and Shayne Whittington had 11 points each for the Broncos, who finish their season 23-and-10. Syracuse will play 11th-seed Dayton in the Round of 32 on Saturday.
Also on the scoreboard:
Villanova 73 Milwaukee 53
UConn 89 St Josephs 81 (OT)
St Louis 83 North Carolina State 80 (OT)
Texas 87 Arizona State 85
Louisville 71 Manhattan 64
Dayton 60 Ohio State 59
Pittsburgh 77 Colorado 48
Florida 67 Albany 55
Wisconsin 75 American 35
Oregon 87 BYU 68
North Dakota State 80 Oklahoma 75 (OT)
San Diego State 73 New Mexico 69 (OT)