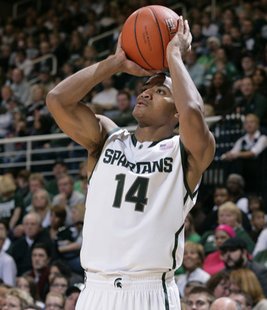 INDIANAPOLIS, IN (WTVB) - It was a dead end yesterday for Michigan and Michigan State on the road to the Final Four as the Wolverines and Spartans each lost their NCAA Tournament Elite Eight games. Last night at Indianapolis in the Midwest Regional final, eighth seed Kentucky got by second seeded Michigan 75-72. Aaron Harrison hit the clutch game-winning triple for the Wildcats with just under 3 seconds to play. Nik Stauskas had 24 points for the Wolverines, whose bid for a second straight Final Four berth came up just short as they end the year 28-and-9.
Earlier in the day at Madison Square Garden, fourth-seeded Michigan State fell to seventh-seed Connecticut 60-54 in the East Regional final. The smaller Huskies held MSU to only six offensive rebounds and six points in the paint while the Spartans hurt themselves with 16 turnovers compared to 8 for U-Conn. Gary Harris had 22 points for the Spartans, who end the year 29-and-9.
So the field is set for the national semi-finals coming up Saturday in Arlington, Texas with Florida vs. Connecticut in the first game followed by Wisconsin against Kentucky. The Championship will be decided a week from tonight.