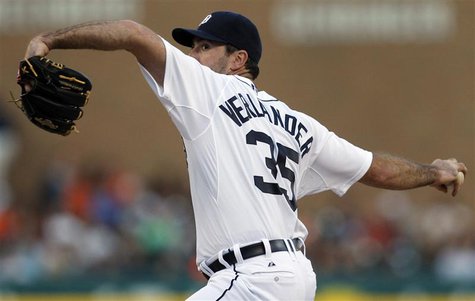 BALTIMORE, MD (WTVB) - The Detroit Tigers were able to hang on for a 7-5 win over the Orioles yesterday afternoon giving them a sweep of the 3-game series at Baltimore. It was Detroit's eighth straight road win and they're 12-3 in their last 15 games. A two-out bases loaded single by Miguel Cabrera in the third inning gave the Tigers a 2-0 lead and it was 6-0 when the Orioles scored five runs in the bottom of the fifth to make it close. Detroit got an insurance run in the next inning on a solo home run by Rajai Davis, who also had another rbi with a 4th-inning sacrifice fly.
Justin Verlander gave up five runs in six innings to improve to 5-and-2 with the win. Joe Nathan notched his 10th save. Detroit's major league best record is now 24-12. The Tigers are off today before opening a 3-game series Friday night at Boston.
The Chicago White Sox won 4-2 yesterday afternoon at Oakland while the Cubs were rained out at St.Louis.